45mm casement window
AGFS India offers a revolutionary 45 mm casement window design that redefines the very essence of modern architecture. Crafted with precision and innovation, these windows feature an exceptional aluminium casement window section for unparalleled strength and durability. The innovative sliding casement window mechanism not only enhances functionality but also maximizes ventilation, making your living space more comfortable. With an array of options for casement window handle styles, AGFS India ensures that aesthetics meet functionality seamlessly. Their focus on the design of windows encompasses not just form but also function, resulting in a perfect blend of elegance and efficiency. The varying glass window thickness options cater to different needs, providing the perfect solution for every space. Experience the future of window design with AGFS India.
Casement window designs
Discover a world of elegant possibilities with casement window designs by AGFS India. Their innovative creations encompass a wide range of options, from timeless casement window wooden designs that infuse warmth and sophistication into your space, to the best glass windows design that seamlessly blend aesthetics and functionality. The aluminium casement window section is a testament to their commitment to durability and precision. For those seeking a touch of modernity, the sleek Casement window of UPVC alternatives provides a contemporary look. The casement window elevation is thoughtfully crafted to enhance the architectural appeal of any building, and the 45 mm casement window offers enhanced insulation and structural integrity. Explore AGFS India's casement window offerings and elevate your living spaces with style and substance.
Casement window type
AGFS India presents a remarkable selection of casement window types that are engineered to perfection. The robust casement window lock ensures the security of your space while providing ease of operation. The 45 mm casement window option from AGFS India stands out with its superior insulation and sturdiness, making it ideal for residential and commercial applications. The aluminium casement window details are meticulously designed, highlighting the company's dedication to precision and quality. In window fabrication, AGFS India combines technology with skilled craftsmanship to offer products of exceptional durability and style. These commercial building windows are built to stand the test of time, employing the finest aluminium casement window materials to meet the highest standards in the industry.
Modern casement window
AGFS India redefines modern living with their exceptional casement window plan that combines innovative design and functionality. Their meticulously crafted casement window section offers a perfect blend of style and structural integrity, providing a clear view to the outside world. The exquisite casement window grill not only adds an elegant touch but also enhances security. AGFS's focus on the seamless integration of natural light is evident in their use of large glass windows, creating bright and inviting living spaces. With precision aluminium window fabrication, AGFS ensures their windows are not just contemporary in design but also built to last, making them a perfect choice for modern homes.
Aluminium casement window
AGFS India presents an exceptional range of aluminium casement window solutions that seamlessly merge form and function. The intricate casement window section detail is a testament to their commitment to precision engineering, ensuring every aspect of the design is thoughtfully considered. Their casement window dimensions are tailored to fit various architectural requirements, guaranteeing a perfect fit for any space. AGFS takes pride in delivering high-quality casement window parts, ensuring that each component plays a crucial role in creating durable and aesthetically pleasing building windows. With a focus on impeccable window fabrication work, AGFS India remains at the forefront of providing contemporary, reliable, and stylish window solutions for discerning customers.
45mm casement window, Casement window designs
4500C, now popular in India. Casement Systems is developed and promoted in cooperation with Alutec Srl. Italy by Siadow Systems Pvt. Ltd., India. We are licensed and equipped to produce and sell the 4500C series.
This series is ideal for regular windows, larger openings and high wind load conditions. This System has
glazing
options from 5mm to 21mm. These windows are designed for dust and water resistance. This System has corner joints & T-Joints for strong mechanical joineries. High-performance Co-Extruded Gaskets are used in this System which can withstand -30°C to, +50°C resulting in dust, water and noise protection. This series is ideal for regular windows, larger openings and high wind load conditions. The series includes aluminium-clad wood windows, enhanced with the durability of fibreglass exterior sashes and frames. These windows feature a range of styles and designs specifically designed to meet the needs of architects. Their superior engineering provides superior performance in areas prone to high winds as well as providing energy efficiency when used in residential or commercial applications.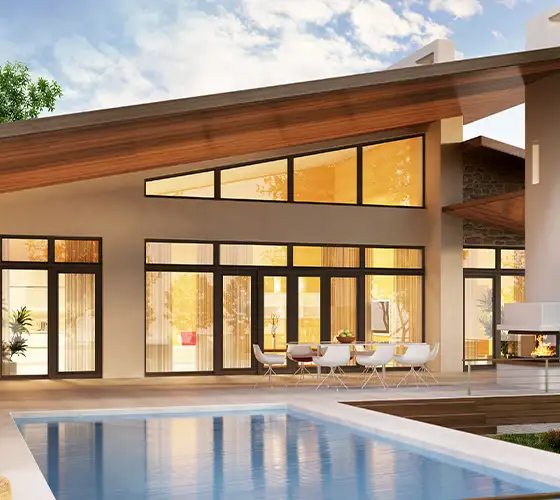 This System has the flexibility for various opening options, such as Internal & External openings Top Hung, Pivoted, Tilt & Turn etc.
These windows are available in anodized powder coated andDecoral wood finish. A dedicated punching machine does most fabrication functions for precision and consistency.
Alumak Profile is produced by Banco Industries Ltd. Alloy 6063 T6 Temper as per IS-6477 1983 for Dimensional Tolerances and IS-1285 1975 for Chemical Composition & Mechanical Properties.