40 mm casement window
AGFS India redefines window design with the versatile 40mm Casement Window. In our aluminium casement window section, form meets functionality seamlessly, offering a new perspective on architectural excellence. Including a sliding casement window opens up a world of design possibilities, allowing for easy customization. The casement window handle is ergonomically designed for convenience and style, while our meticulous attention to the design of windows ensures each one is a work of art. From the glass window thickness to the smallest detail, our commitment to excellence is unwavering. With AGFS India, you're not just choosing a window; you're choosing a masterpiece that enhances your architectural vision.
Casement window upvc
AGFS India presents an innovative take on window design with their Casement Window UPVC. The meticulous attention to aluminium casement window details is clear in every frame, combining durability and elegance. Our array of casement window designs offers a range of possibilities to suit your architectural vision. From the classic charm of casement window wooden frames to contemporary designs, our windows cater to diverse tastes. The seamless integration of glass windows design with precision window fabrication results in a perfect harmony of form and function. When you choose AGFS India, you're choosing not just a window but a commitment to architectural excellence and the enhancement of your living space.
Aluminium casement window
AGFS India proudly introduces their Aluminium Casement Window, a masterpiece of architectural design. The casement window section detail is meticulously crafted, reflecting precision and quality in every frame. With customizable casement window dimensions, our windows effortlessly blend form and function to complement your unique space. Every component, from the casement window parts to the glass windows, is carefully selected to ensure durability and elegance. Our commitment to excellence extends to aluminium window fabrication, where we seamlessly merge art and precision to create windows that redefine architectural beauty. Choose AGFS India, and you choose more than just windows; you choose a commitment to enhancing your living space with the finest craftsmanship in the industry.
Casement window plan
AGFS India presents a revolution in window design with their Casement Window Plan. These modern casement window are more than just windows; they are architectural statements. The intricate casement window section is a testament to precision and quality, ensuring that every frame seamlessly blends aesthetics and durability. The casement window grill adds a touch of elegance and sophistication to any building windows, elevating not just the interior but also the exterior facade. With meticulous attention to window fabrication work, AGFS India doesn't just offer windows; they offer a commitment to enhancing architectural beauty and setting new standards in the world of modern window craftsmanship.
Casement window type
AGFS India introduces their innovative Casement Window Type, a breakthrough in window design. The casement window lock is meticulously crafted to ensure security and ease of use, reflecting our commitment to excellence. Our aluminium casement window section seamlessly integrates precision and aesthetics, ensuring every window is a work of art. Whether you're seeking casement window elevation for commercial building windows or residential spaces, our range of designs is tailored to your unique needs. Using the finest aluminium casement window materials guarantees not only the durability but also the elegance of each window. When you choose AGFS India, you're not just choosing windows; you're choosing a commitment to architectural excellence and the enhancement of your living or working space.
The AGFS 40MM Casement Window is a non-insulated system for inward and outward opening windows and doors. This system is designed for high-quality construction, offering excellent commercial and residential application performance.

It provides exceptional weather resistance, air leakage control, sound insulation, energy efficiency and security. The AGFS 40MM Casement Window also offers several benefits, such as an aesthetically pleasing design with narrow frames, various
glazing
options including double glazing and triple glazing to meet different requirements, easy installation due to its simple joint technology and a wide range of accessories that can be used in combination with the system. In addition to its many features, this system also provides long service life with low maintenance needs due to its corrosion-resistant aluminium alloy construction. The 40MM Casement Window is the latest offering from AGFS. This advanced series offers customers a wide range of options for single, and double-shutter windows and doors. Featuring hairline corner joints, this series offers the possibility of a double shutter window and door with flying mullion for up to 100 openings. In addition, it comes with two points locking system to enhance security while providing an aesthetic appeal to any home or office space.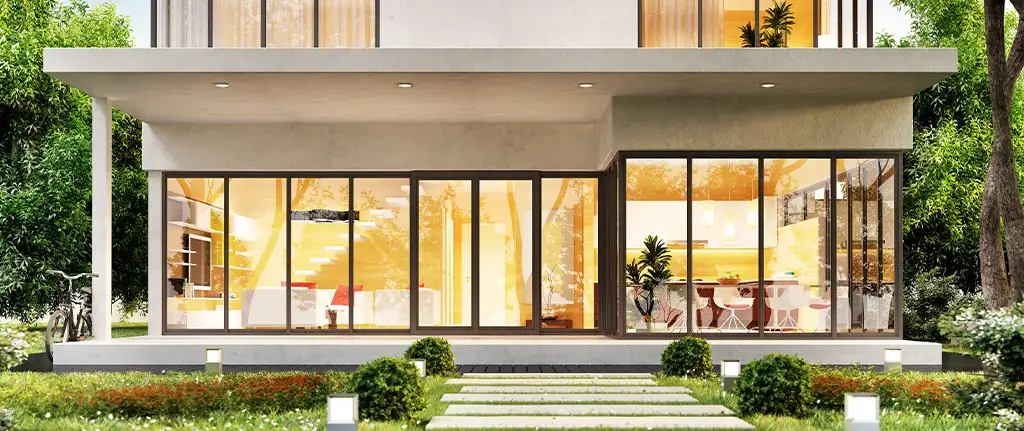 The 40MM Casement Window is designed with versatility, allowing homeowners to choose between single or
double glass panels
for either their windows or doors. It also features robust construction that can withstand extreme weather conditions and provide insulation against heat loss. With its robust design, it offers superior protection from intruders as well as noise reduction within the room. Additionally, it comes with adjustable hinges that allow easy installation on many frames, including aluminium, vinyl and wood frames.